Latest dairy entry
TT 2017
It's been some time since I updated this site as I guess I've not done much travelling, but I was lucky enough to be apart of our TT Zero electric bike entry with Bath University where I am working at present.
Working with 15 students on a project to build a race bike, battery driven and compete at the Isle of Man TT races, so with much work and sweat we just got our bike ready using a Ducati 916 very modified frame ready to race.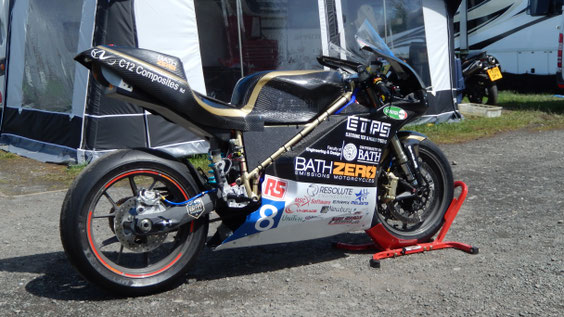 Most of the metalwork was done by myself, and a workmate called Steve Thomas did a wonderful job of all the carbon fiber.
The students did a great job in the design department, everything fitted in place, and with just a day to go we were sort of ready but without testing it we had no idea how it would perform.
The weather in the Island was wet, and we missed out on a lot of practice, In fact with a few minor battery problems we never completed one lap of practice, so we had no idea of the power to use compared to the distance we could travel.
Race day, though delayed came on the Friday in fine conditions and Mathew Rees, our rider took off down Bray hill for the one and only lap.
Mathew had a steady lap, as we had governed the speed down to finish rather than be fast, and it worked, In fact it worked too well, because after the race we found we had 40% of battery left, almost enough to do two laps. Still to finish was the main goal and thats what we did, but if we had known of the extra battery we had left I'm sure we could have done a 105mph lap, So plenty of information for next year, should we get a grant and some sponsorship.
Maybe I will stay to help, but one day I want to get back on the road once the BMW is back up together, but the Isle of Man was a great experience for me.
Motorcycle Repairs
Well it looks like there is a lot more work to do on the trusty old F650 if I want to ride it back to New Zealand, but first I need to find a base in the UK to do the work.
Unfortunately the engine has to come out and be stripped to replace the clutch bearings, which means I may as well replace the gearbox bearings and anything else at the same time.
The other job is the headstock bearings in the front of the frame, I replaced these 60,000 miles ago so they haven't done bad.
I must admit that rather than do all this work, the thought of a new bike seems a good idea, but the trusty Beemer has taken me to so many places now and that I have plenty of spare parts for it as well as knowing my way around it I would feel sorry to let it go.
So, May as well save my money and keep what you know going.
It has been a little while since I've put any updates onto this site as I have not started travelling yet, but I was very pleased to recieve an e-mail from my old travelling friends, Helmut and Bettina who have just finished their 5 year around the world trip finishing through the America's. A fantastic and exciting experience for both of them to see and for anyone else to read through their amazing Website = timetoride.de.
I was humbled when they asked if they could stay a couple of nights for their first visit to nthe UK before returning home to Burghausen in Bavaria for what I guess would be a big welcome home.
So I took a couple of days holiday and welcomed them on arrival on the Sunday evening. It was great to see them and hear of some of the adventures.
The next day I showed them around my local city of bath and to the University where I worked. Bettina had suffered a broken side stand in transit from Vancover Canada while in the aircraft, so before catching the bus into the city, which is easier than trying to park we welded the broken stand in our workshop. Then into Bath and to see the sights on such a perfect sunny day, we were so lucky apart from me getting the flu, but never mind it was a lovely day out.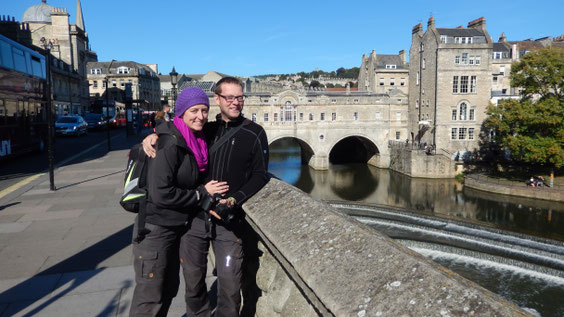 The next day it was time to say goodbye, and I wanted to ride some of the way with them to the first services east after Bath and onto the M4. I am pleased to report that my trusty F650 Beemer seems to have sorted it's electrical problems with the mod's I have made to it. The only thing I need to do now is the steering head bearings, then hopefully it will be ready for it's next long trip back to NZ.
We had a stop at the Moto services for coffee pictures and goodbyes, both a sad and happy time for me as they are a lovely couple, but I was invited to see them maybe next year if my trip to Africa goes ahead on the way.
So an eventful couple of days and now it's back to work to try and make up some money for the next one.
Bye for now.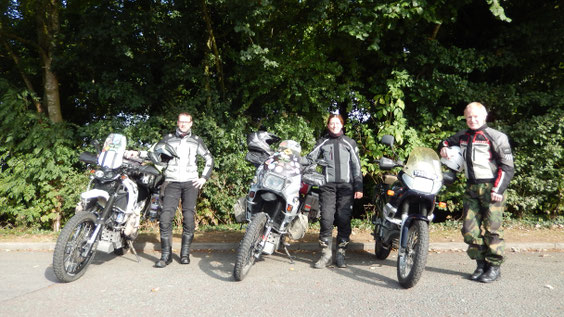 Goodbyes at Moto Services on the M4
During the springtime the BMW has had a bit of a refit, with two new inlet valves, a new cam chain and guides a new tensioner, inlet manifold, rebuilt radiator, new oil and water hoses, All new suspension bearings and swing arm needle rollers, a new chain and sprockets with some fresh paint to tidy up some parts that the salt and rust had got to.
The main problem that I did have is the burning out of the voltage rectifier which was right under the seat away from any cooling air.
So I bought an accessory regulator and with a new bracket fixed it just in front of the air intake snorkel allowing air sucked into the engine to pass by the regulator, meaning that air will be flowing even when the bike is stationary.
So now I will need to run it for a while to see if it has cured the burning out wires.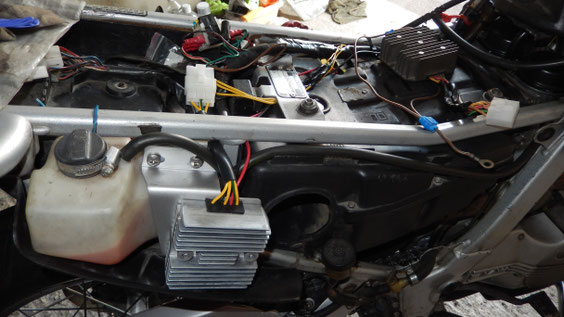 I had just finished the bike in time to attend the Horizons Unlimited rally at Baskerville Hall on the edge of the Brecon Beakons. This was a ninty mile trip from my home, so the first test to see if everything was working OK.
The bike went very well up through the lovely Welsh valley north of Abergavenny to Hay on Wye, where the rally was held. A fabulous weekend and interesting people, who have done far more travels than I will ever do.
This is Martin Williams 650 KLR Kawasaki that he had riden from Cape Town to Nord Kapp in Norway, an amazing trip of 35000 Kilometres. I did'nt realise that I had met Martin before in Queensland, Australia on my way to New Zealand at another Horizons meeting back in 2012, Small World. So with some help from him I can see if a trip through Africa will be possible.
This was my camp for the weekend, only this time not in Russia or Mongolia but here in the Welsh countryside.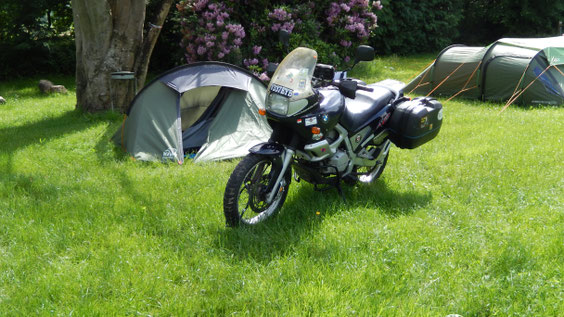 I was lucky enough to bump into two celebrity travelers, Ladies first is Jacqui Furneaux, who amongst other trips bought an Enfield motorcycle in India and after a 7 year trip returned to Britain on it. I had met Jacqui just before leaving for New Zealand last time in Bristol, So it was nice to catch up once again. I think Jacqui is writing a book soon and I'm sure it will be very interesting, So nice to meet somebody out of the ordinary.
Then there was Mr Simon Gandolfi who rode a 125 Honda from Tierra Del Fuego in Argentina to New York in the USA and with the book of the trip called "Old Men Cant Wait" the other thing that is amazing is that he did this at the grand age of 74, So maybe I still have plenty of time for riding yet.
Preparing the bike.
March 2016.
There is much to do on this bike now, The inlet valves were worn out, as  I was unable to find the correct gap to the cam shafts, The rubber inlet manifold had lumps of rubber missing on the inside, The cam chain and guides need replacing as well as the hydraulic cam chain tensioner, which fell to bit's when removed. Swing arm bearings and wheel bearings need replacing, and possibly the steering head races.
The electrics are a mess and need to be thoroughly checked over.
The voltage regulator needs to find a new home where it can get some cool air flowing through it, so I'm going to place it next to the air intake so that cool air flowing into the carb's will have to pass over the regulator,
Well that's the theory at least.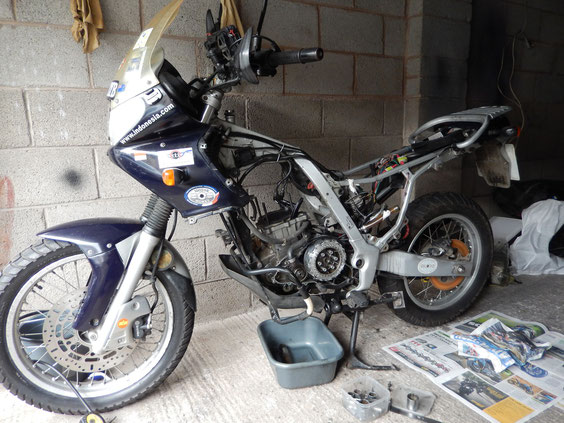 Winter is not a good time to be working in a cold garage, not my favorite passtime, but it has to be done and is better than buying another bike.
The cold and damp is taking it's toll on the bike as the rear cast iron disc has now turned brown.
I'm thinking that when the work is done and about £500 spent will make her fit to travel back to New Zealand again.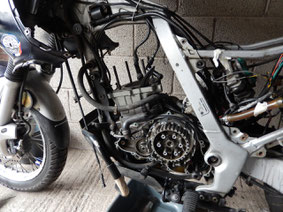 The radiator has also been repaired, but the biggest problem is getting it all ready in time. The African journey does not look very good, so if that cannot happen, then I will have to leave earlier should I decide on the silk route to Beijing through the Stans, Russia and Mongolia.
It will be hard work trying to travel through Mongolia to China should I be running late in the northern hemisphere should the winter arrive early. The other alternative would be to wait in the UK for another year, and I don't fancy that at the moment.
Im sure that something will work out OK, Planning trips like this can take it's toll, as other factors can often change things, but for the time being the bike comes first. I hope to get it back together and running by the end of the month, Then at least one route to plane after the next month before the paperwork will have to begin, but once you are on your way it all makes up for the effort.
To visit new places meet new people and to have the freedom of the road more than makes up for all the preparation, and these memories of your travels will be with you for life.
Till the next time,
Paul.
Thoughts of the next trip.
Nothing like the depths of winter to make the mind think of new horizons.
I've been working in the UK since my wonderful Russian trip in 2014, but feel like making new plans now.
I have always thought that Africa would be the icing on the cake for me, However, I had to give up those plans in early 2014 when the Sudan split into a religious north and south and the area became a little too much of a risk. You have to have some risk when you travel but sometimes your head has to rule your heart, and common sense must prevail.
So that was when the Russian trip became a new adventure that was enjoyed very much.
My new plan is once again to try and do the return trip to New Zealand  through Africa from Egypt after a ride through Europe to the Med.
Unfortunately, North Africa is still unsafe and a little difficult to ship a motorcycle to. I had then planned to ride down through Egypt, Sudan, Ethiopia, Kenya, Uganda, Burundi Tanzania, Malawi Zimbabwe, Botswana, Namibia and South Africa.
From Cape Town I am hoping to ship or fly my bike to Perth in Australia and cross to New Zealand from there.
It's great to have such plans, but sometimes other situations can upset any such hopes of your next trip.
Africa is number one on the list if at all possible, then you must have a back up, and mine is the return Silk route through Turkey Iran then north through the stans into central Russia to hopefully meet some old friends.
From there through Mongolia and if I can find an escort into China, from there I'm not too sure at this point.
So now I have to continue getting my trusty BMW F650 up together and hope that after 150000 miles it still has enough get up and go to do another trip half way around the Globe, If it does, then maybe it should be buried with me, as like myself it will be totally knackered.
Next will be some info on what I have been doing to the bike during the winter, but until then I have other peoples travel stories to read and learn from that will all help to smooth over any future problems when traveling. At a recent bike show in Shepton Mallet I met Gordon May, a very interesting bike traveler who has some interesting travel tales to tell, mainly on British machines, I was amazed to see that Gordon had a book written of his travels from the UK to Egypt on a 1952 BSA Bantam, called (Overland to Egypt) so I bought it after Gordon had kindly signed it for me, I'm reading it now and recommend to anybody thinking of an adventure to read up as much as you can before making your plans.
UK SUMMER 2015
Horizons Haggs Bank Travelers Meeting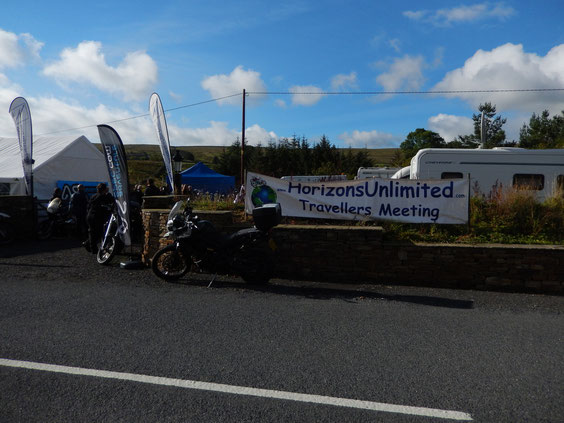 This weekend is the one I've been looking forward to, for two reasons.
The first and most important being to prove if my old F650 Beemer has enough life left in it for one more long trip hopefully back to New Zealand, and this 300 mile each way journey from Midsomer Norton to Cumbria will let me know how the bike is going.
Little did I know that another 100 miles or so was added when we went on the mystery ride on the Saturday across the Penines and the beautiful sights of all the mining towns and villages set in such beautiful countryside.
The best thing about this trip was not knowing anybody on arrival, but the northern hospitality kicked in and we were all made very welcome indeed.
One of the most important things for me was to seek information about anybody who knew anything about travel through Africa. There were a couple of guys who were able to help, so Thanks to Roddy Warriner and his 1200 GS riding daughter who knows of people who are actually traveling through there now.
Roddy runs MOTOFREIGHT for the shipping of your bikes along with JAMES FREIGHT, who I have used before, I'm sure both companies are only too willing to help. The thing that impressed me is that they ride bikes and were both in attendance at the meeting.
Anyway, I'm sure that after exchanging a few e-mails more info about Africa and shipping will come from me getting to this wonderful gathering that is around the middle of September each year, So if you want to learn more about it, check out.
info@haggsbank.com
It's well worth a visit where the people are friendly the beer tasty and the scenery Stunning.
These are just a few pictures of the weekend at Hagg Bank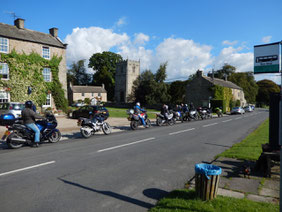 Just a small stop to make some changes to our route.

None of this meant anything to me as I had no Idea where I was anyway.

But I sure enjoyed the company, Everyone rode there bikes very well and the weather was also kind.

We are right on top of the Penine's for a picture or two and it surprised me how quickly we covered the 100 miles during the day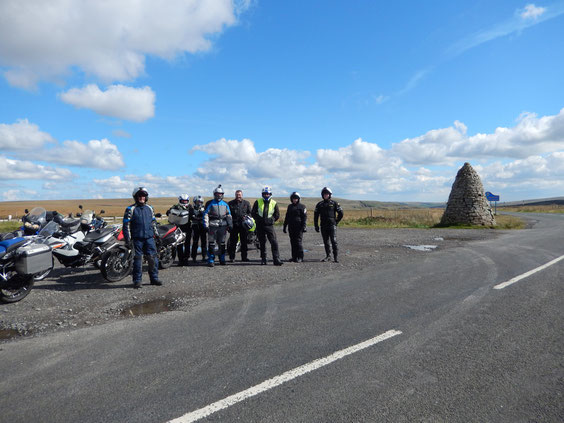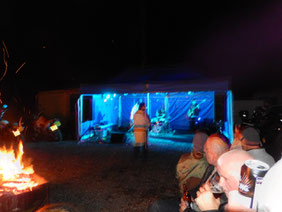 After the days ride, there is nothing like having some food and drink and listening to one of the best live bands I've heard of for a very long time. Sorry guys, I didn't catch your name, I'll try to update this later.
So now we get down to how the bike performed, and I'm pleased that after renewing some wiring connections the day before departure, that it performed perfectly taking only 6 hours to get up to Haggs Bank at a steady pace of 68/70 MPH, and the return journey taking 7 hours due to bad congestion around the Birmingham area. Unfortunately I used the M6 for most of the weekend which made the Mystery tour far more enjoyable on the Saturday.
I couldn't fault the bike except that there may be a little play in the steering head bearings, but after 148000 miles, an still using no oil.
who cares.
For me I think it will do one more ATW trip.
The last of the wonderful views on top the Penines.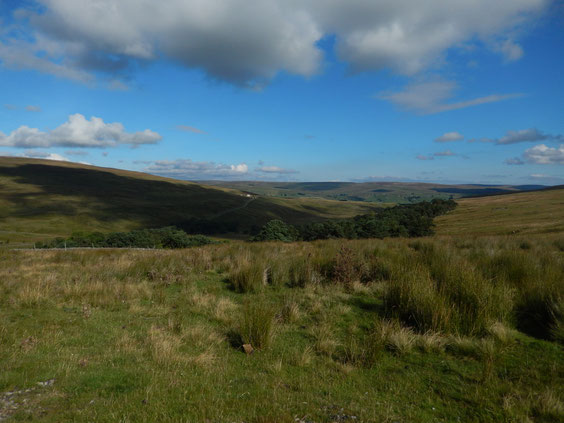 Thanks to all the organizers for such a great weekend, and the new friends I met.
Paul
Well, the summer moves on and I've just had a great week in the Isle of Man for the Classic TT. You need a break from work and the Same old, Same old to get your head together at times.
AFRICA
Is looking a little too ambitious a route to return to New Zealand next year, but I hope to find more out about that when I visit the Horizons Unlimited Camp weekend at Haggs Bank later this month.
I am hoping to meet up with some African adventurers who have recently traveled the African continent to get the latest on just how safe things are out there.
On the other hand if anyone reading this already knows and would be kind enough to get in touch, please do so.
I have to be back next year anyway to sort my retirement years out and may just have to sit in a plane for 26 hours to do so.
Why anybody would want to do that instead of doing it on a motorcycle, I don't know.
but sometimes you have no choice.
I will be back at the TT in the Isle of Man anyway in 2017, (all being well) so I may finish my overlanding then, if not through AFRICA then maybe another route, but AFRICA is the plan.
The thing about this type of travel is that you must always have a plan, or if you like, (A Dream).
It doesn't happen unless you make it happen.
Just check out my friends Helmut and Bettina (timetoride.de) in South America right now, a hard life but all very worthwhile in the end. Their pictures and video's are very professional indeed.
Anyway a couple of pic's of the Island TT races and more to come from Haggs Bank Horizons camping meeting in Cumbria soon.
Stay upright,
Paul
CLASSIC ISLE OF MAN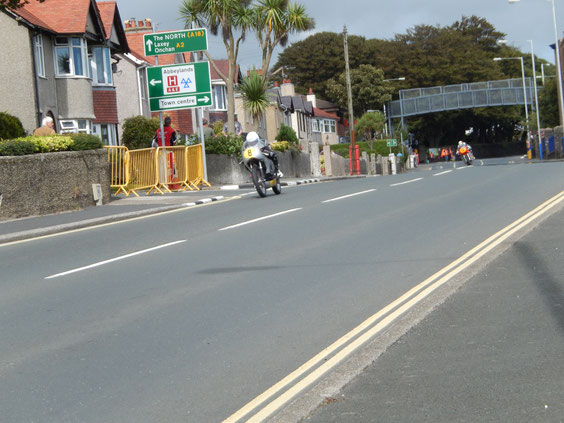 The best road racing you will ever see.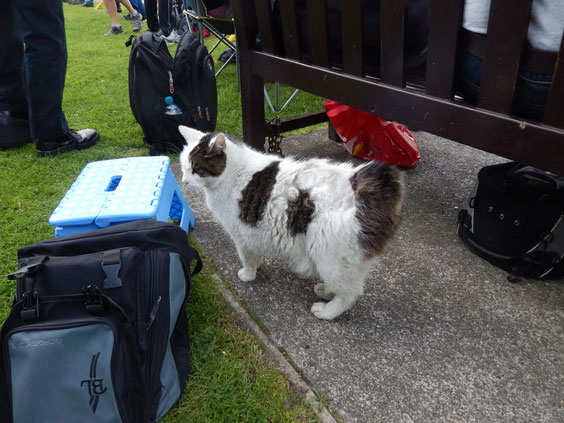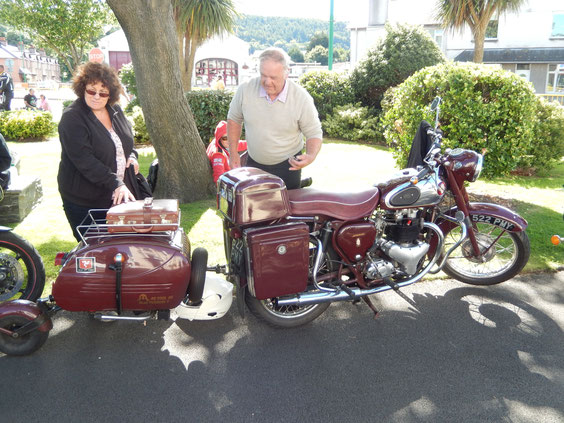 Now this looks like a good idea for a round the Globe trip. A classic BSA with a trailor. At least you can work on an old bike if you have to. If a modern bike stops in the middle of nowherem What do you do?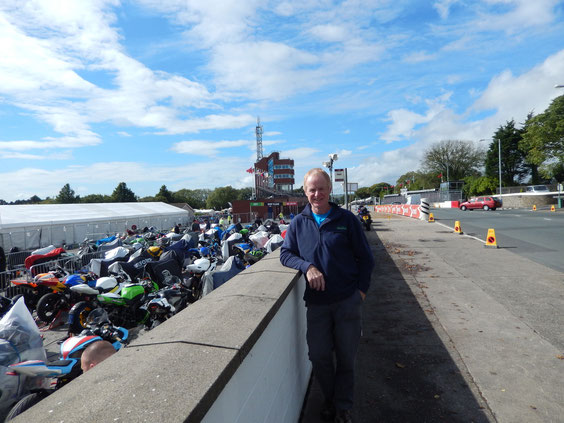 Hard to think that I tried racing around here almost forty years ago,

Nothing has changed, except the bikes are a lot faster, but it was still a great experience all the same.

Back to the travels
MIDDLE EAST 2012
Iran 2012 heading towards Pakistan, where the real problems started, Iran was just great, and the people very friendly but security in Pakistan was a little different, although my thanks go to the Pakistani government for their assistance.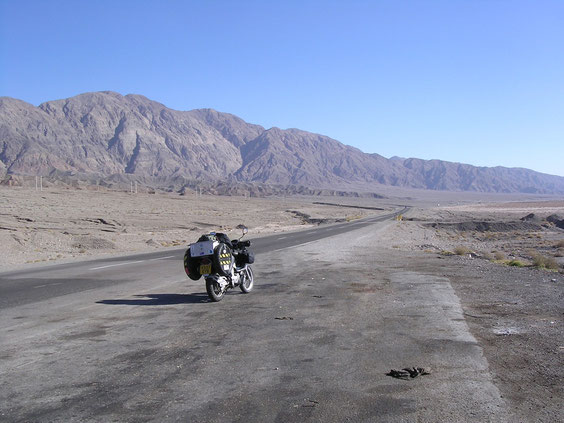 These guys were kind enough to keep an eye on me crossing fromTaftan at the Iran/Pakistan border following the southern Afganistan border to the tribal town of Quetta 636 kilometres away. They would travel with me untill I was left on the side of the road and was picked up by another police patrol, and so on all the way to Quetta.

Apparently the Taliban are very active in these parts, and stupid tourists like yours truly, are very welcome to be their guests.

I'm sure for a small fee, Very small in my case, but the Government allowed me a visa, and I was not asked for any money to pay for all this security, I even had my own AK 47 in the back of the van just in case,

In case what?

But all joking, it was far more tence than I had realised. Then at the Hotel Morning Star, I was told of other tourists not so lucky.

I also took a walk into town the next day which was also pretty stupid, and apart from the person staring at me in the mirror, was the only western looking guy around.

When I did leave the escorts were waiting for me again, with a small boy outside my room waiting, and my armed escorts downstairs at our arranged time of departure of 9am.

I then found that the young boy was paid by the Police to make sure I did'nt sneak away before the arranged time.

So I gave him some money as well, at least he was happy now and very tired, I think.

So more of the same for a few days.

We had to stop for a rest, and also to fix an overtight fanbelt that was making the water pump squeal.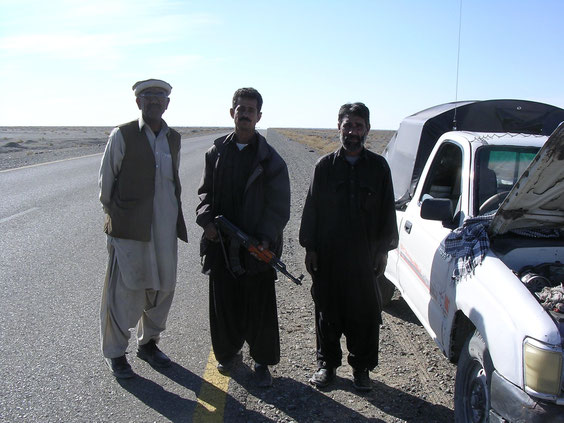 I Did'nt know if I felt important, or just a bloody nuisance, but after a couple of day's I just wanted to get away, But thanks all  the same guys, I'm very grateful.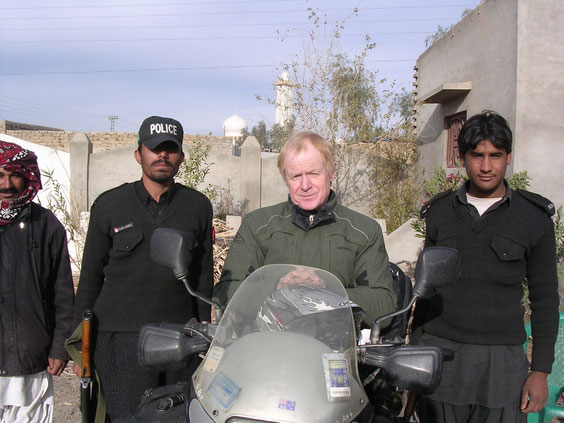 2014 MONGOLIA
2014 Mongolia, There are some pleasures on the road that you dont bother describing, Free camping in Mongolia was when you could really feel at one with the elements and yourself, A very special feeling, with only the sound of the bird's for company.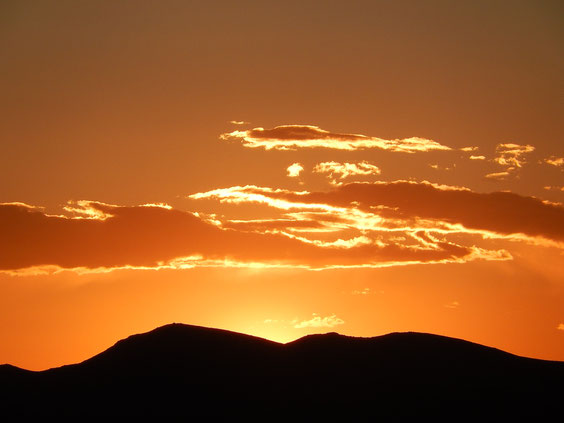 RUSSIAN FRIENDS, IGOR AND SERGEY.
2014, Russia, Central Russian city of Krasnoyarsk, Back to the busy but beautifitul city where Igor and Sergey helped me so much.

I cant thank them enough for helping me out.

Thankyou guys.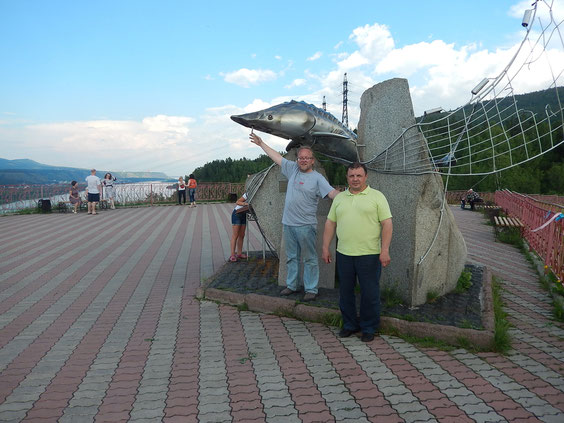 2014 After 3 hours getting over to Russia from Mongolia I am just too tired to go any further, So it was decided to stay at the border town, an old but comfortable soviet style hotel with a view of a typical Russian hotel room. but it did the job and was all that I needed before getting back on the road the next morning.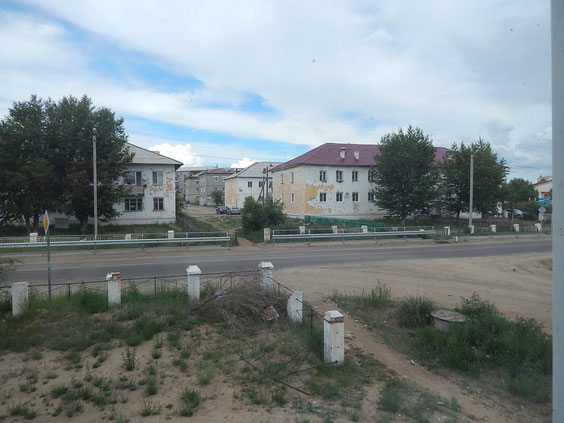 This was a typical room in the smaller border town, made an even bigger mess once I had moved in.